The demand for charitable toilet paper continues to grow, with the latest development being the circulation of a Newspaper sharing the positive stories and images of this continued effort to give everybody a comfortable place to sit, with the help of the CDL Group you can now order a subscription service so you never need think about toilet paper again, we have also used our experience in kitting and advertising campaigns to assist "Who Gives a Crap" in their efforts to spread this positive and cheerful product and service.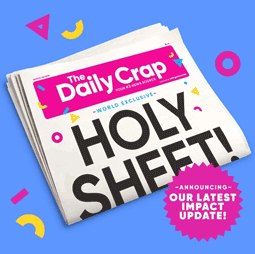 "Who Gives A Crap is tired of all the bad news in the world, so they made their own feel good newspaper! Learn about the company's exciting new social impact partners PLUS... Scandals! Politics! Ridiculous classifieds! Weather!"
FREE NEWSPAPER INSIDE EVERY ORDER (WHILE STOCKS LAST).
Don't need toilet paper but still want to read The Daily Crap? Click here!